Are you looking for a way to bring your Sanyo TV to the next level of entertainment?
Have you heard about all the great apps that are available, but don't know how to add them to your TV?
Look no further! In this article, we will show you exactly how to add apps to your Sanyo TV.
With the right steps, adding apps to a Sanyo TV is easy.
Whether you're looking for streaming services like Netflix or Hulu, or gaming apps such as Minecraft or Roblox, this guide will help you get everything set up quickly and easily.
We'll also explain how to use your remote control in order to navigate through the menus and access all the great features available on your Sanyo TV.
By following these simple instructions, you can take advantage of all the amazing content available on your Sanyo TV in no time.
So if you're ready for an upgraded viewing experience, keep reading and find out how you can add apps to your Sanyo TV today!
Understanding Smart Tvs
Smart TVs are becoming more and more popular, offering an impressive range of features that can easily be accessed using the remote. A Smart TV is like an all-in-one entertainment system with streaming services, games, and other apps available straight from the television.
Adding apps to your Sanyo TV allows you to customize your viewing experience and access even more content.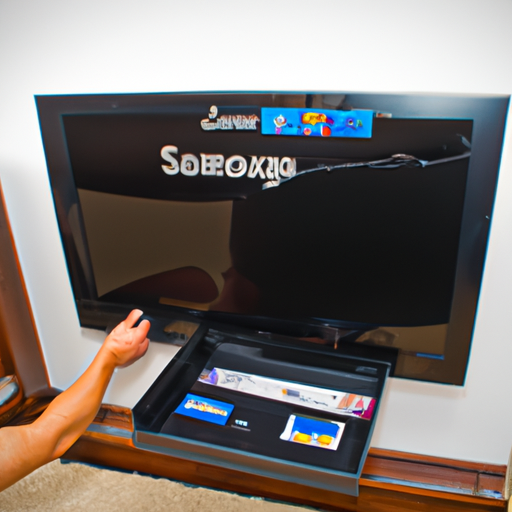 Before you can start adding apps to your Sanyo TV, it's important to determine if it is compatible with the app store or app marketplace that contains the apps you want.
Most Smart TVs come with a few pre-installed apps, but not all models have access to additional app stores.
If your Sanyo TV doesn't come with an app store, it may not be able to support extra applications.
Once you've confirmed that your model is compatible with an app store, you're ready to start adding new apps!
Finding Compatible Apps
Finding the right apps for your Sanyo TV can seem like an endless quest! With so many different types of apps available, it can feel overwhelming to decide which ones you want. But don't worry – with a few simple tips, you can quickly narrow down your options and find the perfect apps for your viewing experience.
Here are some helpful pointers to keep in mind:
Consider what type of content you're looking for – streaming services, games, educational apps, etc. 2) Read reviews from other users to make sure the app will work on your Sanyo TV.
Make sure that the app is compatible with your specific model of Sanyo TV. 4) Check the app's age rating to make sure it's appropriate for everyone in the household.
With these tips in mind, you should be able to quickly find compatible apps that fit your needs and preferences. Now that you've found the right apps, it's time to move on to downloading and installing them on your Sanyo TV!
Downloading And Installing Apps
When you've found the right apps for your Sanyo TV, it's time to get them downloaded and installed.
Fortunately, this is a relatively easy process that can be completed in just a few steps.
First, open the app store on your Sanyo TV.
From here, you can browse through the available apps and select the ones you want.
When you find an app that interests you, simply click 'Download' and wait for it to finish downloading onto your device.
Once the download has completed, click 'Install' to add the app to your TV.
You'll then be prompted to enter any necessary login information or agree to any terms of service.
Once this is complete, your app should be good to go!
TIP: If there are multiple people in your household who use the same Sanyo TV, create personalized profiles for each person so that everyone can enjoy their own selection of apps!
Customizing Your Home Screen
Your Sanyo TV is now like a blank canvas, ready for you to customize and make it your own. Just as you might arrange furniture to create the perfect living space, arranging apps on the home screen can help you to easily access your favorite content.
Think of your home screen as an art gallery—you can choose which apps should take center stage, and which should take a backseat.
Simply drag and drop apps into their desired positions so that they are easy to find when you're in a hurry.
Don't be afraid to experiment; if one arrangement doesn't work out, try something else until you find the layout that's perfect for you!
Now that your Sanyo TV is customized with all of your favorite apps, it's time to sit back and enjoy the show.
With this simple setup process complete, all that's left is to explore what each app has to offer.
From streaming movies to playing games, there's no end of entertainment just waiting for you!
Conclusion
In conclusion, modern Smart TVs offer a wealth of opportunities for users to customize their entertainment experience and add apps to their television. With the right knowledge, you can easily find compatible applications that meet your preferences and enjoy new content from the comfort of your living room.
By taking the time to understand how to add apps to your Sanyo TV, you can make sure that you are well-equipped with the latest technology and able to access all of the desired content in a seamless manner. With this newfound ease comes an exciting world of endless possibilities, allowing you to explore a variety of options in order to create a personalized viewing experience.
All in all, adding apps to your Sanyo TV is an effortless endeavor that can bring joy and convenience into your home.